Develop Foundational Sales Knowledge
& Close More Deals
We help you go from "Typically, we don't make budget decisions during this time of year…." to "STOP TALKING & TAKE MY MONEY!"
Boost your income with The Sales House™ Methodology.
The world's best salespeople don't rely on luck to close deals and scale revenue. They have a repeatable process that they follow each and every time.
Built upon profound psychological principles: The Sales House™ courses train you to rapidly adapt, create buy-in, and facilitate "need" while handling your buyer's objections.
When you become a Revenue Academy™ Member, you instantly gain access to:
Full-Funnel Sales Training Courses
Video Lessons Built to Help You Scale
Real World Projects that Help You Rise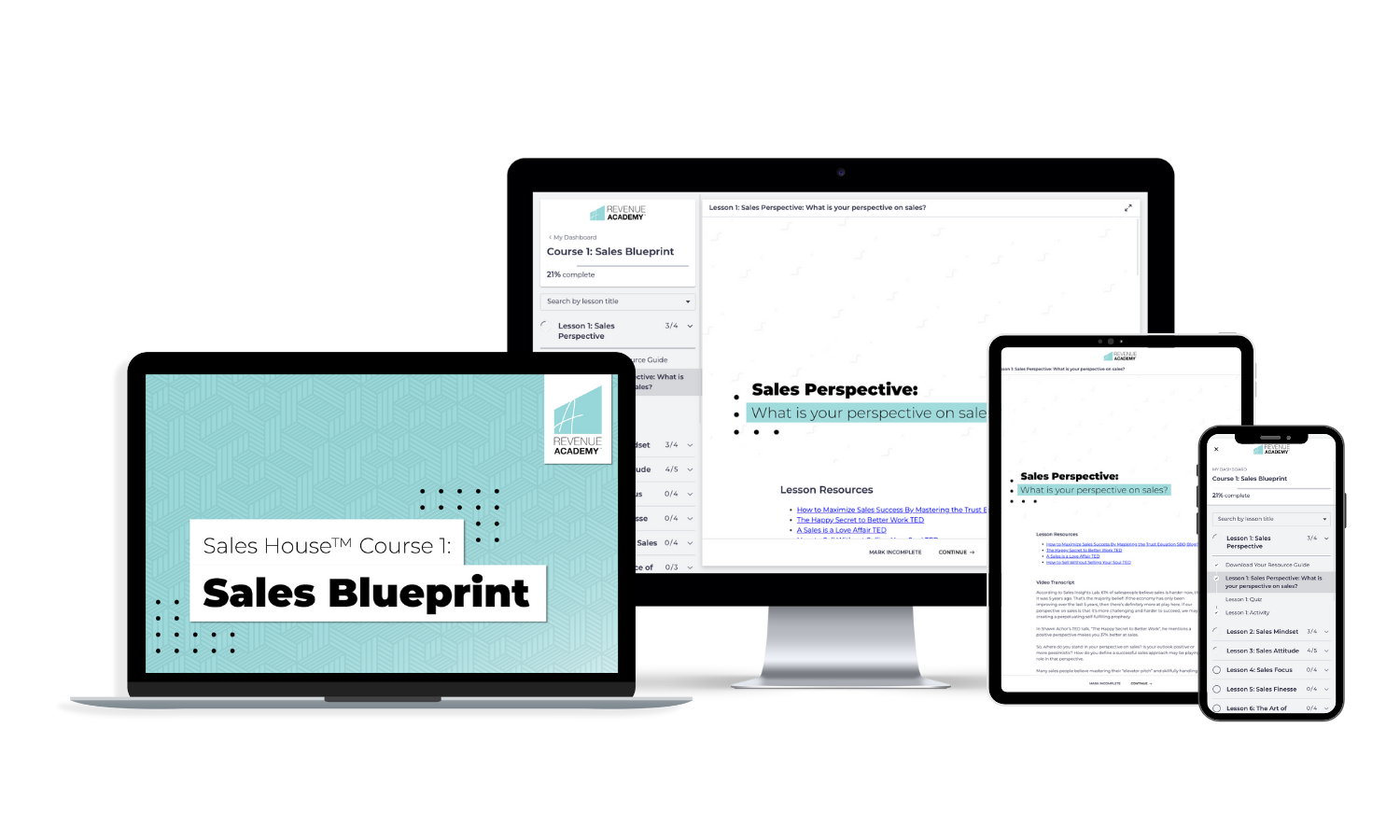 Course 1:
Sales Blueprint
Foundational sales knowledge for every sales executive.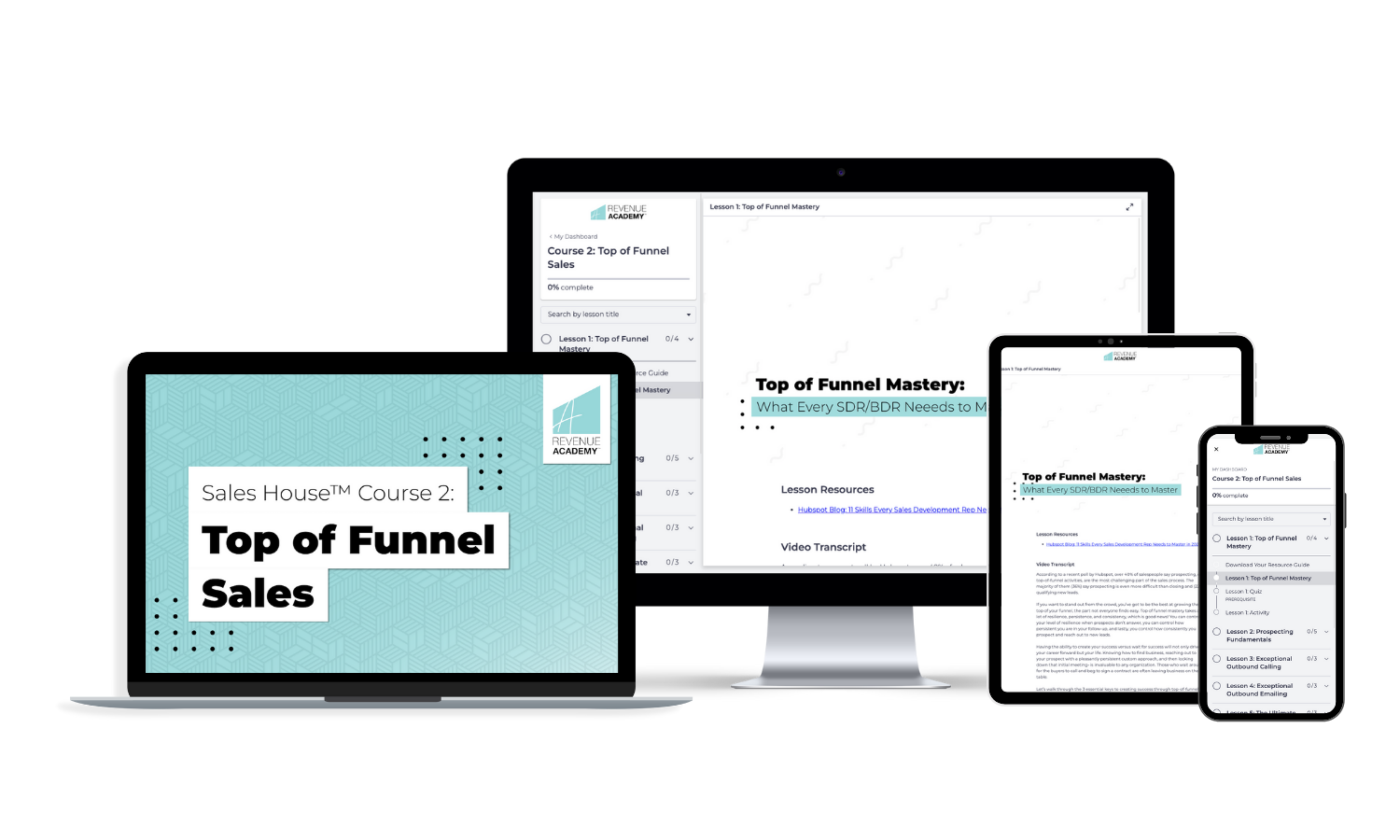 Course 2:
Top of Funnel Sales
Top of funnel sales techniques to fill your pipeline.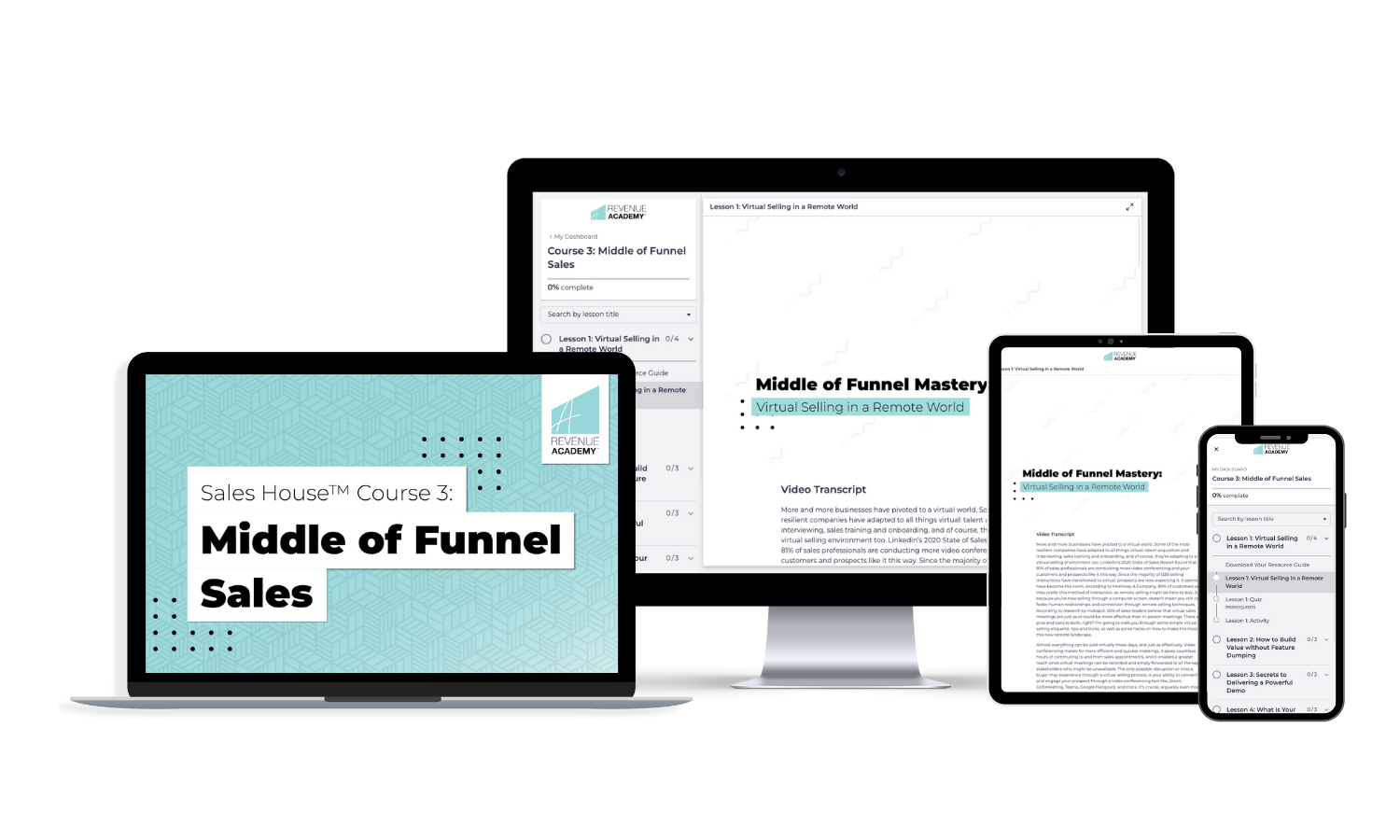 Course 3:
Middle of Funnel Sales
Middle of funnel sales techniques to guide your prospect toward making a purchase decision.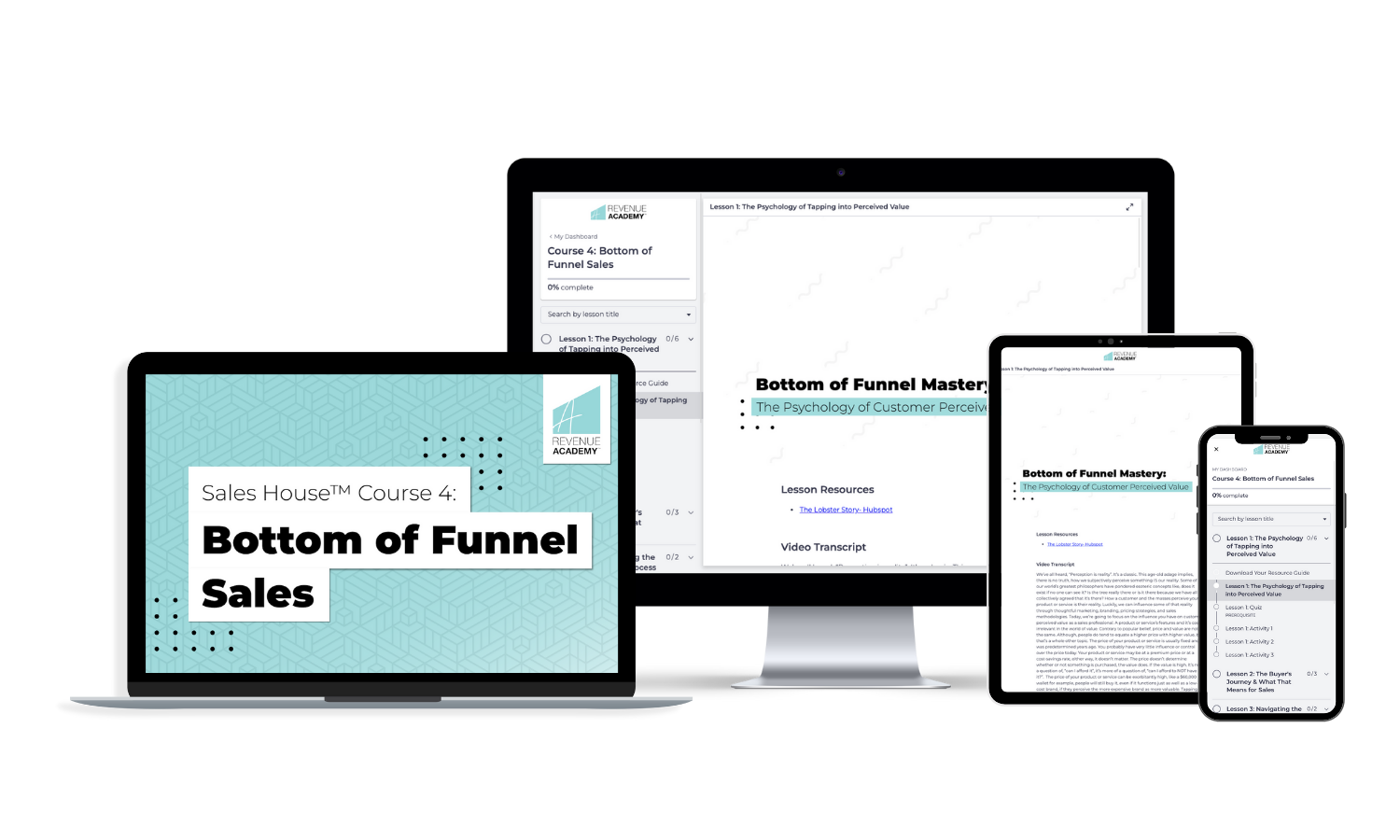 Course 4:
Bottom of Funnel Sales
Bottom of funnel sales techniques you should use to close your sale based on the individual client.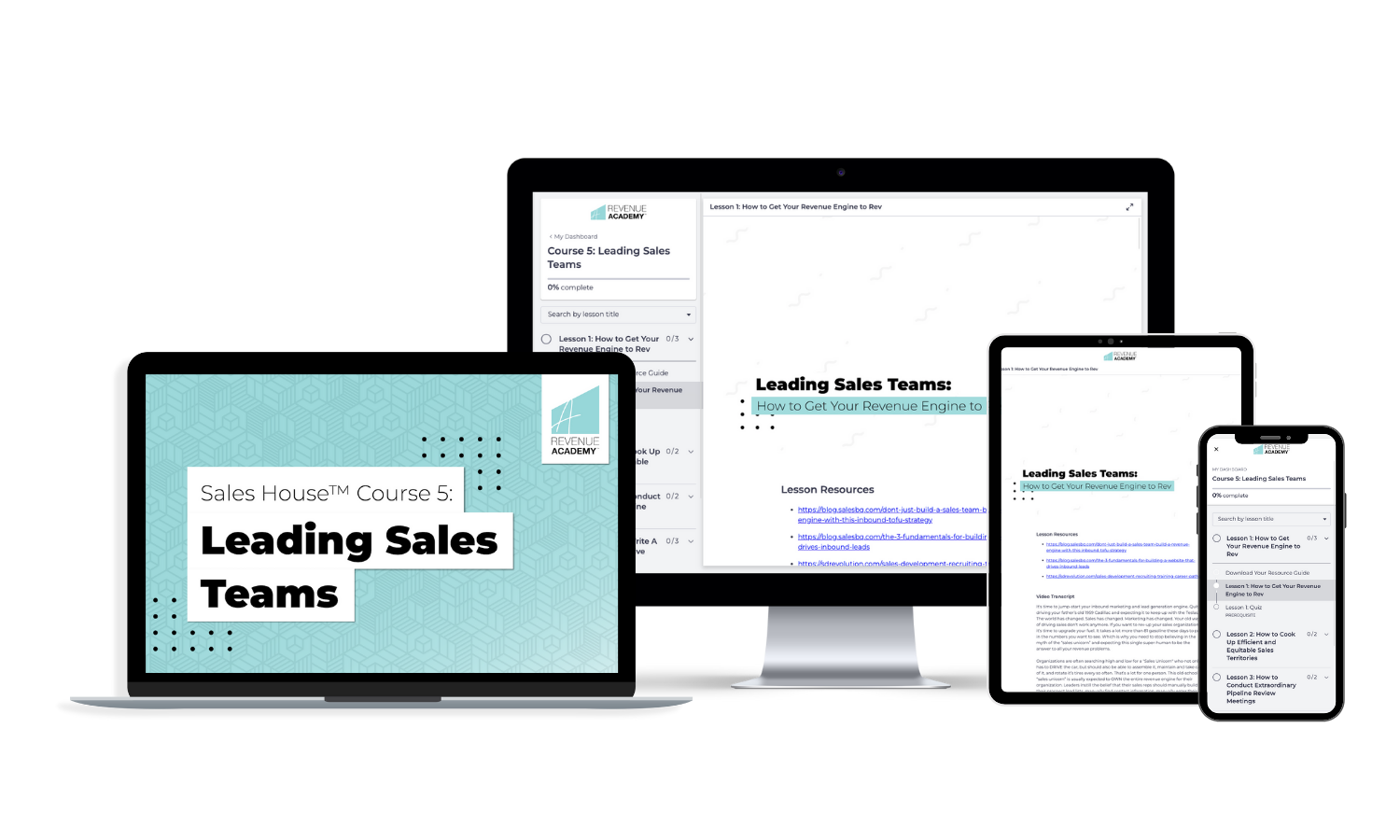 Course 5:
Leading Sales Teams
How to successfully manage your sales team towards quota crushing results.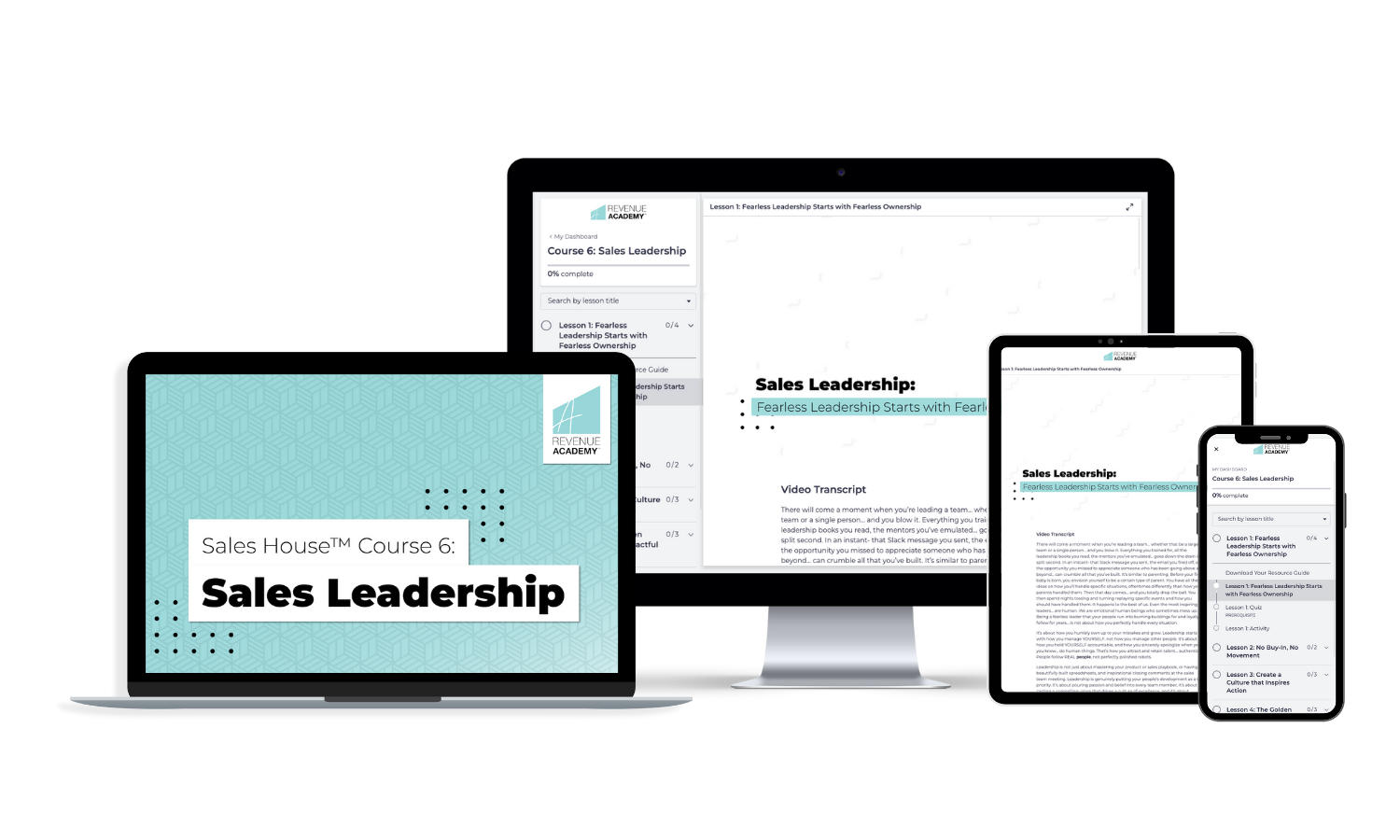 Course 6:
Sales Leadership
Learn how to be a Sales Leader who inspires your team's commitment and action.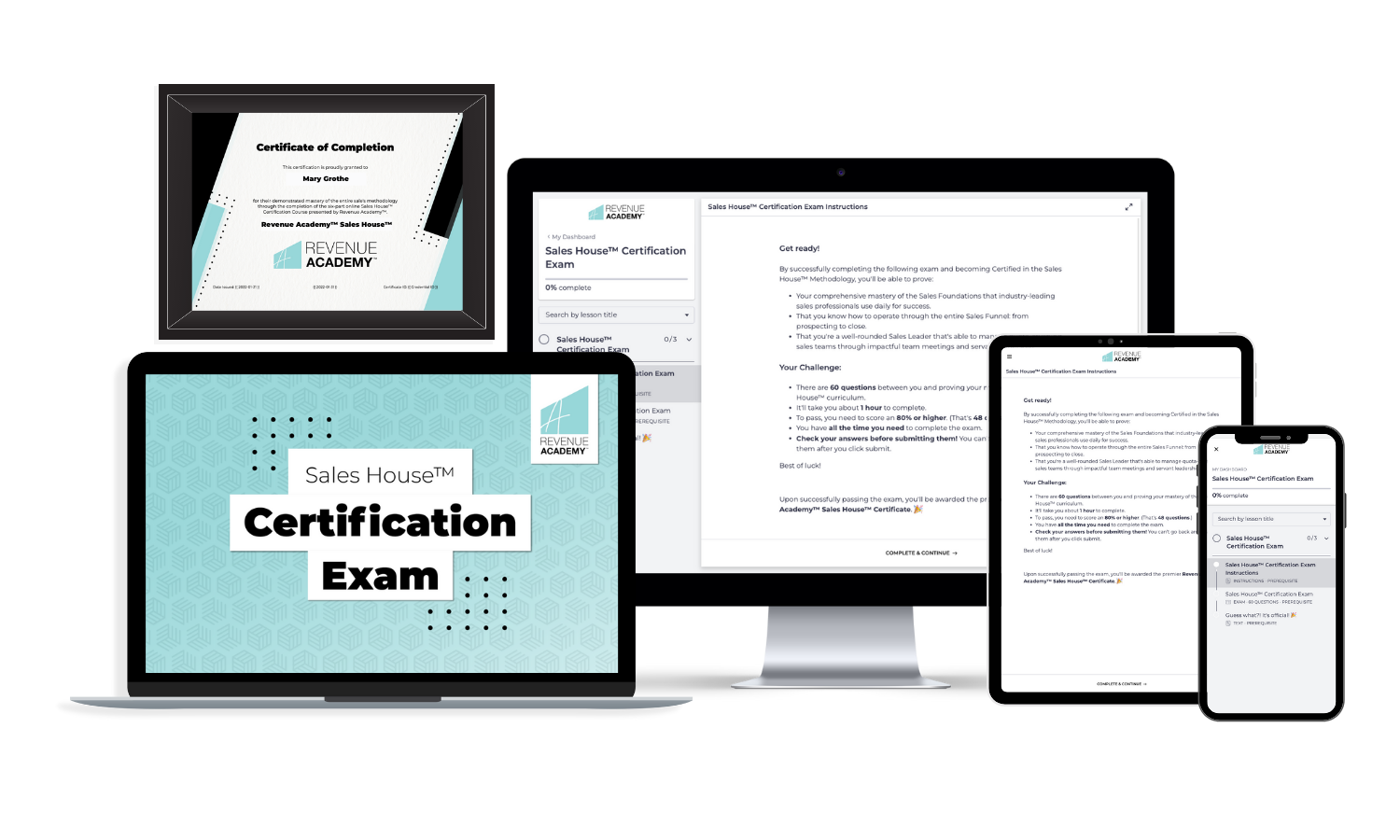 Get Certified:
The Sales House™ Methodology
Develop your Sales Foundations, learn how to operate through the Sales Funnel, and prove you're a Sales Leader by becoming Certified in The Sales House™ Methodology.
Get instant access to the skills and techniques you need to close more deals.
Membership Benefits
Develop your foundation of sales knowledge, learn how to operate through the sales funnel, and prove you're a sales leader by becoming Certified in The Sales House™ Methodology.

Exclusive Access
Every month, we'll hold an in-depth tactical workshop on a specific, timely tactic that will keep you on the cutting edge. Attend live or watch the recording.

Time & Flexibility
Online videos, interactive activities, and self-guided activities teach sellers essential models and concepts when and where it works for them.

A Deep Understanding of The Sales Process
Online videos, interactive activities, and self-guided activities teach sellers essential models and concepts when and where it works for them.

Instantly Usable Skills & Techniques
Video-based scenarios show you how to use concepts in action, teaching you the difference between good, great, and quota crushing.
Who Should Join?
Revenue Academy™ is on a mission to educate current and future business leaders by helping them build a holistic framework of knowledge that will enable them to excel in their roles, accelerate revenue growth, and increase profitability for their businesses.
Sales Professionals

Sales Rookies

Sales Managers

Sales Executives

Marketing Executives

Sales Development Reps (SDRs)

Business Development Reps (BDRs)

CEOs

Business Owners

Senior Management

Veteran Sales Executives
I started working with House of Revenue in October and I can not tell you enough how much they have helped professionally with my sales career. My idea and rationale of sales has been completely changed ever since working with Greg, Charlie & House of Revenue. I truly feel equipped to absolutely crush my goals and ultimately build a very successful sales career! I can't thank them enough!
Hunter Rademacher
CSI Accounting & Payroll
House of Revenue helped me grow into a salesman who initially thought booking 40 meetings in a month was an impossible outcome. I, month over month, have hit my number and even sometimes exceeded my number. Now I can proudly say my highest month was upwards of double the 40 meetings which I thought was impossible when I first started in my role.
Sales Rep
Corrigo
I learned so much and had a ton of fun working with you over the last couple of months. It was the most transformational thing I have done for my business…ever.
Dustin Riedel
Adler Avisors
Sales techniques
proven to crush quotas in any industry.
How do I know your training will work for me?
This is THE most important question, and we appreciate your skepticism - that's a sign of a savvy salesperson.

These days any Jake, Susan, or Becky with a Wifi connection and a MacBook can claim to be an online sales genius.

They simply regurgitate every tip, trick, and hack they hear from every popular Sales Training Program and every Top Sales Voice without actually doing it themselves.
They have all the advice in the world for what you should do, but the moment you ask, "How'd that work out for you?" they disappear faster than a prospect after an email negotiation.

Developed by the executives at House of Revenue with over 50 years of combined quota crushing sales experience, we've earned hundreds of thousands of dollars for ourselves and our high-paying sales coaching clients by training psychology-backed closing methods that jolt people into action.

We're talking about going from "Typically, we don't make budget decisions during this time of year…." to "STOP TALKING & TAKE MY MONEY!"
You Have Questions. We Have Answers.
What makes your courses different from all of the other Sales Training classes out there?
Can I get my employer to cover the cost?
What do I get for becoming a member of Revenue Academy™?
How will I gain access to the platform?
Do you have a guarantee policy?
Get the skills and techniques you need to close more sales.